unique tools for craft bread bakers
Wood Pulp Bannetons
Proofing baskets made from the pulp of spruce trees, pressed under intense force to create an unmatched fermentation experience for craft bread bakers. Producing a better loaf with more rise and better crust.
See Sizes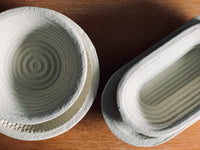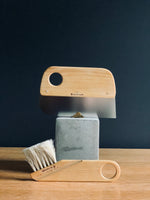 Banneton Brush and Dough Scraper
Iris Hantverk Co. has been manufacturing and employing visually impaired craftsmen in Stockholm, Sweden for over 100 years. They exist to promote the brush binding tradition by making functional products with iconic design and natural materials.
Shop
Baker's Knives
We don't take knives lightly. That's why it took us 10 months and many trials to find ones that were worth owning. The search for quality, price, and design has led us to France's Opinel Knives and their 130 years of iconic history.
SHOP